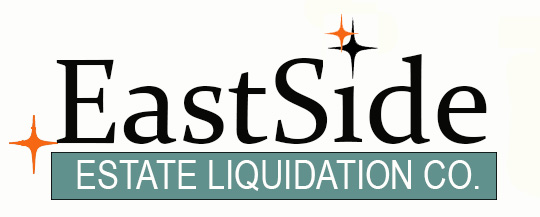 Charming Orting Estate Loaded With Sweet Finds
This charming home nestled near the heart of downtown Orting is filled with treasures from afar, small collectibles, beautiful glassware and china, vintage finds, tools, garden decor, and more! The owner of the home had a love for collecting, and often found herself at an estate sale herself, picking up treasures. She truly found joy in the little things, especially if those little things were collectible. This is reflected in the home, with a little of this and a little of that. Something for everyone!
Pick-ups will be happening on SUNDAY NOVEMBER 20th from 10-4.
*Please arrange a time the morning following the auction by calling/texting or emailing Taylor at info@eastsideestateco.com or 206-650-0017* Include your NAME - LOT NUMBERS - PREFERED PICK UP TIME
The exact address will be posted on your electronic invoice the morning of pick-ups.
For small items, arrangements can be made to pick up in Issaquah as an alternative following the 20th (pickup date). Please inquire at info@eastsideestateco.com
*****THERE WILL BE A LARGE PICKERS SALE ONSITE*****
Start Date/Time: 2022-11-09 07:00:00
End Date/Time: 2022-11-16 19:00:00
PickUp Date/Time: Please schedule a pickup time by calling 206-650-0017
Lot # 1 - Vintage Diner Style Glassware

Starting Bid: $ 5.00

Bids:

This sale will end in:

Higher Bidder


--

Current Bid

No Bid





Lot # 2 - Vintage Middle Eastern Hammered Copper Trio

Starting Bid: $ 5.00

Bids:

This sale will end in:

Higher Bidder


Dutch

Current Bid

$16.00





Lot # 3 - Antique Arabic Copper Dallah Coffee Pot & Ottoman Empire Serving Dish

Starting Bid: $ 5.00

Bids:

This sale will end in:

Higher Bidder


elvis

Current Bid

$5.00





Lot # 4 - Quite the Copper Collection w/ Lucite Copper Flaked Candle Sticks

Starting Bid: $ 5.00

Bids:

This sale will end in:

Higher Bidder


Dutch

Current Bid

$41.00





Lot # 5 - Antique Country Kitchen

Starting Bid: $ 5.00

Bids:

This sale will end in:

Higher Bidder


HoneyBadger

Current Bid

$16.00





Lot # 6 - Vintage Westmoreland and Avon Milk Glass

Starting Bid: $ 5.00

Bids:

This sale will end in:

Higher Bidder


Littleelliebee

Current Bid

$5.00





Lot # 7 - Darling Pair of Wood Trinket Cabinets Full of Miniature Animal Tchotchkes

Starting Bid: $ 5.00

Bids:

This sale will end in:

Higher Bidder


Jlong

Current Bid

$61.00





Lot # 8 - MCM Pink Ceramic Leafed Relish Dish and Pedestal Console Bowl

Starting Bid: $ 5.00

Bids:

This sale will end in:

Higher Bidder


sheeben

Current Bid

$17.00





Lot # 9 - Retro ForteCrisa Mexican Purple Glass Dish Set

Starting Bid: $ 5.00

Bids:

This sale will end in:

Higher Bidder


Frypan

Current Bid

$8.00





Lot # 10 - Vintage Copper Jello Mold Variety

Starting Bid: $ 5.00

Bids:

This sale will end in:

Higher Bidder


Britnknee

Current Bid

$5.00





Lot # 11 - Shelves full of Arcoroc Franc Glass and Crystal Variety

Starting Bid: $ 5.00

Bids:

This sale will end in:

Higher Bidder


Writer

Current Bid

$5.00





Lot # 12 - Whole Lot of Glass Vases

Starting Bid: $ 5.00

Bids:

This sale will end in:

Higher Bidder


Dahlia Lady

Current Bid

$7.00





Lot # 13 - Vintage Ceramic Floral Tea Party Set w/ Salt + Pepper & Napkin Rings

Starting Bid: $ 5.00

Bids:

This sale will end in:

Higher Bidder


--

Current Bid

No Bid





Lot # 14 - Antique Solid Wood China Cabinet w/ Glass Paneled Doors

Starting Bid: $ 5.00

Bids:

This sale will end in:

Higher Bidder


--

Current Bid

No Bid





Lot # 15 - Vintage Anchor Hocking Cobalt Blue Ice Cream Sundae Glasses + Cobalt Wine Glasses

Starting Bid: $ 5.00

Bids:

This sale will end in:

Higher Bidder


Dahlia Lady

Current Bid

$10.00





Lot # 16 - WM. Rogers Silver Plated Flatware

Starting Bid: $ 5.00

Bids:

This sale will end in:

Higher Bidder


Frypan

Current Bid

$6.00





Lot # 17 - Tudor Silver Plated Flatware + Collectible Spoons

Starting Bid: $ 5.00

Bids:

This sale will end in:

Higher Bidder


PNW-TNT

Current Bid

$5.00





Lot # 18 - Miniature Hofbauer and German Import Crystal Collection

Starting Bid: $ 5.00

Bids:

This sale will end in:

Higher Bidder


--

Current Bid

No Bid





Lot # 19 - Aqua Indiana Depression Carnival Glass and Crystal

Starting Bid: $ 5.00

Bids:

This sale will end in:

Higher Bidder


lady206

Current Bid

$21.00





Lot # 20 - Hazel Atlas Glass Goblets and Arcoroc Franc Crystal Bowls

Starting Bid: $ 5.00

Bids:

This sale will end in:

Higher Bidder


--

Current Bid

No Bid





Lot # 21 - Antique Harmony House China Set

Starting Bid: $ 5.00

Bids:

This sale will end in:

Higher Bidder


Nine

Current Bid

$8.00





Lot # 22 - Tray Table Assortment

Starting Bid: $ 5.00

Bids:

This sale will end in:

Higher Bidder


RoxyRose

Current Bid

$15.00





Lot # 23 - Antique Silver-Plated Coffee and Tea Service

Starting Bid: $ 5.00

Bids:

This sale will end in:

Higher Bidder


--

Current Bid

No Bid





Lot # 24 - Vintage Cambell's Soup Tureen with Lid and Ladle

Starting Bid: $ 5.00

Bids:

This sale will end in:

Higher Bidder


MB98023

Current Bid

$5.00





Lot # 25 - International Multi-Colored Hand Woven Baskets

Starting Bid: $ 5.00

Bids:

This sale will end in:

Higher Bidder


Writer

Current Bid

$5.00





Lot # 26 - Decorative Brass & Copper Plates from Afar!

Starting Bid: $ 5.00

Bids:

This sale will end in:

Higher Bidder


HoneyBadger

Current Bid

$5.00





Lot # 27 - Gorgeous Antique Brass and Copper Treasures from Afar!

Starting Bid: $ 5.00

Bids:

This sale will end in:

Higher Bidder


lady206

Current Bid

$11.00





Lot # 28 - Beau Rivage Large Ceramic Serving Set

Starting Bid: $ 5.00

Bids:

This sale will end in:

Higher Bidder


MB98023

Current Bid

$5.00





Lot # 29 - Tall Ceramic Angels & Cherub

Starting Bid: $ 5.00

Bids:

This sale will end in:

Higher Bidder


elvis

Current Bid

$5.00





Lot # 30 - Ornate Black Brass Vase and Vintage Brass Engraved Rose Water Sprinkler

Starting Bid: $ 5.00

Bids:

This sale will end in:

Higher Bidder


HoneyBadger

Current Bid

$5.00





Lot # 31 - Large Antique Old Islamic Persian Copper Plate w/ Large Copper Ladle

Starting Bid: $ 5.00

Bids:

This sale will end in:

Higher Bidder


lady206

Current Bid

$15.00





Lot # 32 - Bookshelves and Vintage Book Collection

Starting Bid: $ 5.00

Bids:

This sale will end in:

Higher Bidder


--

Current Bid

No Bid





Lot # 33 - Country Corner Cabinet w/ Christmas Decor

Starting Bid: $ 5.00

Bids:

This sale will end in:

Higher Bidder


twtybrd0428

Current Bid

$31.00





Lot # 34 - 90's Christmas Snowflake Teddy Collection

Starting Bid: $ 5.00

Bids:

This sale will end in:

Higher Bidder


MB98023

Current Bid

$6.00





Lot # 35 - Vintage Ward Wood Tallboy Dresser

Starting Bid: $ 5.00

Bids:

This sale will end in:

Higher Bidder


JD

Current Bid

$21.00





Lot # 36 - Vintage Ward Wood Mirrored Bedroom Dresser

Starting Bid: $ 5.00

Bids:

This sale will end in:

Higher Bidder


--

Current Bid

No Bid





Lot # 37 - Patriotic Lot- Plates, Flag, Brass Eagle, Wood Eagle and Decor

Starting Bid: $ 5.00

Bids:

This sale will end in:

Higher Bidder


tricelynn

Current Bid

$11.00





Lot # 38 - Crosley Wooden Case Record Player With Vinyl Assortment

Starting Bid: $ 5.00

Bids:

This sale will end in:

Higher Bidder


devilham.2005

Current Bid

$48.00





Lot # 39 - A Seamstress Bundle- Sewing Machine, Cabinet and Sewing Supplies

Starting Bid: $ 5.00

Bids:

This sale will end in:

Higher Bidder


PNW-TNT

Current Bid

$6.00





Lot # 40 - Vintage Childs Rocking Chair with Two Foot Stools-Bears Included

Starting Bid: $ 5.00

Bids:

This sale will end in:

Higher Bidder


ShannonLT

Current Bid

$5.00





Lot # 41 - Sandra Kuck Collectors Plates

Starting Bid: $ 5.00

Bids:

This sale will end in:

Higher Bidder


elvis

Current Bid

$5.00





Lot # 42 - Antique Blanket Stand & Coat Rack

Starting Bid: $ 5.00

Bids:

This sale will end in:

Higher Bidder


ShannonLT

Current Bid

$5.00





Lot # 43 - Carved Wood and Woven Treasures from Around the World

Starting Bid: $ 5.00

Bids:

This sale will end in:

Higher Bidder


sheeben

Current Bid

$6.00





Lot # 44 - Beautiful Indonesian Rickshaw Cycle Nail Art

Starting Bid: $ 5.00

Bids:

This sale will end in:

Higher Bidder


--

Current Bid

No Bid





Lot # 45 - Vintage Middle East Handcrafted Treasures

Starting Bid: $ 5.00

Bids:

This sale will end in:

Higher Bidder


Frypan

Current Bid

$5.00





Lot # 46 - Gorgeous Selandia Norway Pewter Vase and Candle Holders

Starting Bid: $ 5.00

Bids:

This sale will end in:

Higher Bidder


PNW-TNT

Current Bid

$8.00





Lot # 47 - Pietra Dura Inlayed Stone Marble Plates

Starting Bid: $ 5.00

Bids:

This sale will end in:

Higher Bidder


MB98023

Current Bid

$16.00





Lot # 48 - Southwest Inspired Decor

Starting Bid: $ 5.00

Bids:

This sale will end in:

Higher Bidder


PNW-TNT

Current Bid

$5.00





Lot # 49 - Montana Silversmiths Heart Buckle & Tony Lama Leather Belt

Starting Bid: $ 5.00

Bids:

This sale will end in:

Higher Bidder


MB98023

Current Bid

$40.00





Lot # 50 - Ceramic Hand Painted Pitcher and Wash Basin

Starting Bid: $ 5.00

Bids:

This sale will end in:

Higher Bidder


Toots

Current Bid

$30.00





Lot # 51 - A Whole Lot of Baskets+ Metal Plant Stands

Starting Bid: $ 5.00

Bids:

This sale will end in:

Higher Bidder


tricelynn

Current Bid

$6.00





Lot # 52 - Maple Rocking Chair, Lamp & Side Table

Starting Bid: $ 5.00

Bids:

This sale will end in:

Higher Bidder


--

Current Bid

No Bid





Lot # 53 - Coat Closet Plus-Coats, Shoes, Dress and Sleeping Bags

Starting Bid: $ 5.00

Bids:

This sale will end in:

Higher Bidder


PNW-TNT

Current Bid

$6.00





Lot # 54 - Office 101-Desk, Chair,& Office Supplies

Starting Bid: $ 5.00

Bids:

This sale will end in:

Higher Bidder


elvis

Current Bid

$5.00





Lot # 55 - Precious Moments Hanging Wall Plates and Print

Starting Bid: $ 5.00

Bids:

This sale will end in:

Higher Bidder


MB98023

Current Bid

$5.00





Lot # 56 - Tape Deck Karaoke With Loads Of Music

Starting Bid: $ 5.00

Bids:

This sale will end in:

Higher Bidder


Bobthefish

Current Bid

$12.00





Lot # 57 - Yamaha Keyboard PSR-500

Starting Bid: $ 5.00

Bids:

This sale will end in:

Higher Bidder


Stumble

Current Bid

$141.00





Lot # 58 - Solid Oak Entertainment Center w/ TV Optional

Starting Bid: $ 5.00

Bids:

This sale will end in:

Higher Bidder


--

Current Bid

No Bid





Lot # 59 - It's A Frame Of Mind- Tons of Frames

Starting Bid: $ 5.00

Bids:

This sale will end in:

Higher Bidder


--

Current Bid

No Bid





Lot # 60 - Cushy Blue Recliner and Wingback Chair

Starting Bid: $ 5.00

Bids:

This sale will end in:

Higher Bidder


Chince

Current Bid

$5.00





Lot # 61 - Vintage Solid Oak Coffee Table With Smoky Glass Panels

Starting Bid: $ 5.00

Bids:

This sale will end in:

Higher Bidder


Nine

Current Bid

$11.00





Lot # 62 - A Roll Top Desk

Starting Bid: $ 5.00

Bids:

This sale will end in:

Higher Bidder


Winewriter

Current Bid

$5.00





Lot # 63 - Beautiful Indigenous/Native Style Hanging Baskets

Starting Bid: $ 5.00

Bids:

This sale will end in:

Higher Bidder


HoneyBadger

Current Bid

$7.00





Lot # 64 - Storage, Shelves, & Supplies

Starting Bid: $ 5.00

Bids:

This sale will end in:

Higher Bidder


--

Current Bid

No Bid





Lot # 65 - Rubbermaid Resin Outdoor Storage Shed #1

Starting Bid: $ 5.00

Bids:

This sale will end in:

Higher Bidder


I want it

Current Bid

$111.00





Lot # 66 - Rubbermaid Resin Outdoor Storage Shed #2

Starting Bid: $ 5.00

Bids:

This sale will end in:

Higher Bidder


I want it

Current Bid

$101.00





Lot # 67 - That's a lot of lights!

Starting Bid: $ 5.00

Bids:

This sale will end in:

Higher Bidder


Nine

Current Bid

$33.00





Lot # 68 - Garden Plant Hangers and Flag Stands + Lamp Post

Starting Bid: $ 5.00

Bids:

This sale will end in:

Higher Bidder


Anita E

Current Bid

$11.00





Lot # 69 - Decorative Yard Elements

Starting Bid: $ 5.00

Bids:

This sale will end in:

Higher Bidder


RiverRidge

Current Bid

$5.00





Lot # 70 - Gnome Place Like Home Fountain

Starting Bid: $ 5.00

Bids:

This sale will end in:

Higher Bidder


Franklin2022

Current Bid

$6.00





Lot # 71 - Art Sculpture/Yard Decor? Twisted Driftwood Rock Sculpture

Starting Bid: $ 5.00

Bids:

This sale will end in:

Higher Bidder


Franklin2022

Current Bid

$21.00





Lot # 72 - Chime In If You Want To-Multiple Hanging Wind Chimes

Starting Bid: $ 5.00

Bids:

This sale will end in:

Higher Bidder


I want it

Current Bid

$8.00





Lot # 73 - Miniature Yard Gnomes & Moss Birdhouse

Starting Bid: $ 5.00

Bids:

This sale will end in:

Higher Bidder


Alaskan

Current Bid

$11.00





Lot # 74 - Antique Red All Steel Tractor-Including Wheels

Starting Bid: $ 5.00

Bids:

This sale will end in:

Higher Bidder


PNW-TNT

Current Bid

$5.00





Lot # 75 - Cement Deer With Her Two Cement Fawns

Starting Bid: $ 5.00

Bids:

This sale will end in:

Higher Bidder


Franklin2022

Current Bid

$36.00





Lot # 76 - Greenthumb Kit

Starting Bid: $ 5.00

Bids:

This sale will end in:

Higher Bidder


Winewriter

Current Bid

$5.00





Lot # 77 - Rustic Shabby Chic Yard Decor

Starting Bid: $ 5.00

Bids:

This sale will end in:

Higher Bidder


Franklin2022

Current Bid

$6.00





Lot # 78 - Outdoor Wall Hanging Garden Art

Starting Bid: $ 5.00

Bids:

This sale will end in:

Higher Bidder


Clutter

Current Bid

$16.00





Lot # 79 - The Cutest Metal Bicycle Plant Stands and Wind Chime Sculpture

Starting Bid: $ 5.00

Bids:

This sale will end in:

Higher Bidder


Winewriter

Current Bid

$31.00





Lot # 80 - Outdoor Yard Decor

Starting Bid: $ 5.00

Bids:

This sale will end in:

Higher Bidder


Writer

Current Bid

$5.00





Lot # 81 - Whimsical Garden Decor

Starting Bid: $ 5.00

Bids:

This sale will end in:

Higher Bidder


Toots

Current Bid

$5.00





Lot # 82 - A Very 90's Sleeper Couch-Super Comfy!

Starting Bid: $ 5.00

Bids:

This sale will end in:

Higher Bidder


--

Current Bid

No Bid





Lot # 83 - Vintage Regulator Wall Clock & Antique Book Bank

Starting Bid: $ 5.00

Bids:

This sale will end in:

Higher Bidder


QualityGuy

Current Bid

$27.00





Lot # 84 - Growing Lot of Angels

Starting Bid: $ 5.00

Bids:

This sale will end in:

Higher Bidder


PNW-TNT

Current Bid

$5.00





Lot # 85 - Floral Fancy - Royal Castle Fine Bone China Vase & St. Helens Ash Cheese Dish

Starting Bid: $ 5.00

Bids:

This sale will end in:

Higher Bidder


MB98023

Current Bid

$16.00





Lot # 86 - Vintage Holland Molds Floral Centerpiece & Candle Holders

Starting Bid: $ 5.00

Bids:

This sale will end in:

Higher Bidder


MB98023

Current Bid

$5.00





Lot # 87 - Vintage Gardening Books & Floral Decor

Starting Bid: $ 5.00

Bids:

This sale will end in:

Higher Bidder


--

Current Bid

No Bid





Lot # 88 - Mermaids Treasures

Starting Bid: $ 5.00

Bids:

This sale will end in:

Higher Bidder


PickledPepper

Current Bid

$26.00





Lot # 89 - Perillo Collectible Plates "Sisters"

Starting Bid: $ 5.00

Bids:

This sale will end in:

Higher Bidder


Franklin2022

Current Bid

$5.00





Lot # 90 - David Right Hamilton Native American Collectors Plates

Starting Bid: $ 5.00

Bids:

This sale will end in:

Higher Bidder


elvis

Current Bid

$5.00





Lot # 91 - Vintage Oil Lamps - Eagle & Lamplight Farms

Starting Bid: $ 5.00

Bids:

This sale will end in:

Higher Bidder


MB98023

Current Bid

$5.00





Lot # 92 - Spice it up! Latin America Treasures

Starting Bid: $ 5.00

Bids:

This sale will end in:

Higher Bidder


HoneyBadger

Current Bid

$5.00





Lot # 93 - Vintage Delft Blue Decorative Bits

Starting Bid: $ 5.00

Bids:

This sale will end in:

Higher Bidder


MB98023

Current Bid

$25.00





Lot # 94 - Adorable Porcelain Dolls w/ Stands- Anco

Starting Bid: $ 5.00

Bids:

This sale will end in:

Higher Bidder


--

Current Bid

No Bid





Lot # 95 - Jim Beam & Leprechaun Decanters

Starting Bid: $ 5.00

Bids:

This sale will end in:

Higher Bidder


elvis

Current Bid

$12.00





Lot # 96 - Vintage Super Nintendo Console With Controller and Games

Starting Bid: $ 5.00

Bids:

This sale will end in:

Higher Bidder


MB98023

Current Bid

$70.00





Lot # 97 - Ding Dong Avon Calling

Starting Bid: $ 5.00

Bids:

This sale will end in:

Higher Bidder


HoneyBadger

Current Bid

$5.00





Lot # 98 - Mid Mod Kitchen

Starting Bid: $ 5.00

Bids:

This sale will end in:

Higher Bidder


--

Current Bid

No Bid





Lot # 99 - Vase Variety

Starting Bid: $ 5.00

Bids:

This sale will end in:

Higher Bidder


Dahlia Lady

Current Bid

$7.00





Lot # 100 - Vintage Hand Painted Ceramic Easter Wreath - 15"D

Starting Bid: $ 5.00

Bids:

This sale will end in:

Higher Bidder


HoneyBadger

Current Bid

$5.00





Lot # 101 - Gorgeous Collectible China- Queen Anne, Lenox, Westland Co.

Starting Bid: $ 5.00

Bids:

This sale will end in:

Higher Bidder


MB98023

Current Bid

$6.00





Lot # 102 - So Brassy! Bells & Candlesticks

Starting Bid: $ 5.00

Bids:

This sale will end in:

Higher Bidder


JD

Current Bid

$5.00





Lot # 103 - Fenton Bells- Signed!

Starting Bid: $ 5.00

Bids:

This sale will end in:

Higher Bidder


MB98023

Current Bid

$30.00





Lot # 104 - Religious Collectibles and Music Makers

Starting Bid: $ 5.00

Bids:

This sale will end in:

Higher Bidder


MB98023

Current Bid

$5.00





Lot # 105 - Christmas Bells Are Ringing- Holiday Collection

Starting Bid: $ 5.00

Bids:

This sale will end in:

Higher Bidder


MB98023

Current Bid

$5.00





Lot # 106 - Empoli Blue Glass Compote and Glass Vase Variety

Starting Bid: $ 5.00

Bids:

This sale will end in:

Higher Bidder


HoneyBadger

Current Bid

$16.00





Lot # 107 - Precious Moments Tea Set- So Precious!

Starting Bid: $ 5.00

Bids:

This sale will end in:

Higher Bidder


MB98023

Current Bid

$20.00





Lot # 108 - Miniature Teapot Collectibles and Trinket Shelf

Starting Bid: $ 5.00

Bids:

This sale will end in:

Higher Bidder


PNW-TNT

Current Bid

$16.00





Lot # 109 - It's a Party- Serving Ware

Starting Bid: $ 5.00

Bids:

This sale will end in:

Higher Bidder


--

Current Bid

No Bid





Lot # 110 - Vintage Blue Rayovac Camping Lights- No. 100

Starting Bid: $ 5.00

Bids:

This sale will end in:

Higher Bidder


MB98023

Current Bid

$11.00





Lot # 111 - Game Night Collection

Starting Bid: $ 5.00

Bids:

This sale will end in:

Higher Bidder


Nine

Current Bid

$5.00





Lot # 112 - Vintage Binoculars- Bushnell & Swarovski Habicht

Starting Bid: $ 5.00

Bids:

This sale will end in:

Higher Bidder


harley426

Current Bid

$72.00





Lot # 113 - Oodles and Oodles of Retro Scarves, Pocket Squares, Gloves and Hankies!

Starting Bid: $ 5.00

Bids:

This sale will end in:

Higher Bidder


Franklin2022

Current Bid

$6.00





Lot # 114 - More Scarves, Wallets, and Vintage Handbags!

Starting Bid: $ 5.00

Bids:

This sale will end in:

Higher Bidder


HoneyBadger

Current Bid

$5.00





Lot # 115 - She's So Fancy! Vintage Vanity Mirror + Brass & More!

Starting Bid: $ 5.00

Bids:

This sale will end in:

Higher Bidder


HoneyBadger

Current Bid

$13.00





Lot # 116 - Scottish Highlander Pilsner Glassware & Etched Glass Beer Steins

Starting Bid: $ 5.00

Bids:

This sale will end in:

Higher Bidder


RiverRidge

Current Bid

$5.00





Lot # 117 - Kitsch Fans Only!

Starting Bid: $ 5.00

Bids:

This sale will end in:

Higher Bidder


Franklin2022

Current Bid

$11.00





Lot # 118 - Porcelain Cherub Collection

Starting Bid: $ 5.00

Bids:

This sale will end in:

Higher Bidder


--

Current Bid

No Bid





Lot # 119 - Swans, Geese, Blue, and Pink!

Starting Bid: $ 5.00

Bids:

This sale will end in:

Higher Bidder


--

Current Bid

No Bid





Lot # 120 - Mod Lover's Dream

Starting Bid: $ 5.00

Bids:

This sale will end in:

Higher Bidder


HoneyBadger

Current Bid

$5.00





Lot # 121 - Calling All Seattle Sports Fans!

Starting Bid: $ 5.00

Bids:

This sale will end in:

Higher Bidder


tricelynn

Current Bid

$6.00





Lot # 122 - Closet Full of Entertaining Supplies- Cups, Napkins, Tablecloths, Utensils

Starting Bid: $ 5.00

Bids:

This sale will end in:

Higher Bidder


twtybrd0428

Current Bid

$5.00





Lot # 123 - Holiday Ware- Candles, Napkins w/ Rings, Tablecloths

Starting Bid: $ 5.00

Bids:

This sale will end in:

Higher Bidder


Winewriter

Current Bid

$7.00





Lot # 124 - Wedding Bells Are Ringing!

Starting Bid: $ 5.00

Bids:

This sale will end in:

Higher Bidder


--

Current Bid

No Bid





Lot # 125 - Vintage Cookbook Variety

Starting Bid: $ 5.00

Bids:

This sale will end in:

Higher Bidder


Frypan

Current Bid

$13.00





Lot # 126 - Hostess with the Mostest

Starting Bid: $ 5.00

Bids:

This sale will end in:

Higher Bidder


tricelynn

Current Bid

$16.00





Lot # 127 - Oodles of Canisters - Glass, Metal & Plastic

Starting Bid: $ 5.00

Bids:

This sale will end in:

Higher Bidder


Franklin2022

Current Bid

$6.00





Lot # 128 - I've Got the Blues

Starting Bid: $ 5.00

Bids:

This sale will end in:

Higher Bidder


MB98023

Current Bid

$5.00





Lot # 129 - 1980s Mauve & Blue Table Goods

Starting Bid: $ 5.00

Bids:

This sale will end in:

Higher Bidder


PNW-TNT

Current Bid

$5.00





Lot # 130 - Cast Iron Skillets - Wagner Ware - Lodge

Starting Bid: $ 5.00

Bids:

This sale will end in:

Higher Bidder


Jlong

Current Bid

$76.00





Lot # 131 - Store & Save - V2244 Foodsaver

Starting Bid: $ 5.00

Bids:

This sale will end in:

Higher Bidder


RoxyRose

Current Bid

$9.00





Lot # 132 - Mid Mod Kitchen

Starting Bid: $ 5.00

Bids:

This sale will end in:

Higher Bidder


--

Current Bid

No Bid





Lot # 133 - Retro Kitchen Goods

Starting Bid: $ 5.00

Bids:

This sale will end in:

Higher Bidder


HoneyBadger

Current Bid

$19.00





Lot # 134 - Vintage Flatware -

Starting Bid: $ 5.00

Bids:

This sale will end in:

Higher Bidder


Franklin2022

Current Bid

$12.00





Lot # 135 - Vintage Tupperware

Starting Bid: $ 5.00

Bids:

This sale will end in:

Higher Bidder


Franklin2022

Current Bid

$7.00





Lot # 136 - Vintage Glassware

Starting Bid: $ 5.00

Bids:

This sale will end in:

Higher Bidder


--

Current Bid

No Bid





Lot # 137 - ALL THE BAKING PANS!!

Starting Bid: $ 5.00

Bids:

This sale will end in:

Higher Bidder


twtybrd0428

Current Bid

$21.00





Lot # 138 - Nutcracker Cookie Jar & 1994 Hometown Holiday Budweiser Stein

Starting Bid: $ 5.00

Bids:

This sale will end in:

Higher Bidder


Writer

Current Bid

$5.00





Lot # 139 - Creamy Ceramics and Stained Glass Prayer

Starting Bid: $ 5.00

Bids:

This sale will end in:

Higher Bidder


--

Current Bid

No Bid





Lot # 140 - All American!

Starting Bid: $ 5.00

Bids:

This sale will end in:

Higher Bidder


--

Current Bid

No Bid





Lot # 141 - Komfy Kids Vintage Ceramic Piggy Banks

Starting Bid: $ 5.00

Bids:

This sale will end in:

Higher Bidder


ShannonLT

Current Bid

$5.00





Lot # 142 - So Beary Cute

Starting Bid: $ 5.00

Bids:

This sale will end in:

Higher Bidder


--

Current Bid

No Bid





Lot # 143 - Paul Sebastian Porcelain Clown Collection

Starting Bid: $ 5.00

Bids:

This sale will end in:

Higher Bidder


MB98023

Current Bid

$11.00





Lot # 144 - Vintage Neon Piggy Banks & Wind-Up Japanese Tin Toy

Starting Bid: $ 5.00

Bids:

This sale will end in:

Higher Bidder


PNW-TNT

Current Bid

$7.00





Lot # 145 - Limited Edition 100th Anniversary Large Teddy Roosevelt Teddy

Starting Bid: $ 5.00

Bids:

This sale will end in:

Higher Bidder


ShannonLT

Current Bid

$13.00





Lot # 146 - Vintage Mattel and Disney Stuffies

Starting Bid: $ 5.00

Bids:

This sale will end in:

Higher Bidder


ShannonLT

Current Bid

$15.00





Lot # 147 - For the Angel Lover

Starting Bid: $ 5.00

Bids:

This sale will end in:

Higher Bidder


--

Current Bid

No Bid





Lot # 148 - Shoji Style Wood Room Diver- 6 Panels

Starting Bid: $ 5.00

Bids:

This sale will end in:

Higher Bidder


scc

Current Bid

$16.00





Lot # 149 - Fall Decor

Starting Bid: $ 5.00

Bids:

This sale will end in:

Higher Bidder


--

Current Bid

No Bid





Lot # 150 - Etched Glass Stemware + Weighted Silver Bud Vase

Starting Bid: $ 5.00

Bids:

This sale will end in:

Higher Bidder


--

Current Bid

No Bid





Lot # 151 - A Whole Lot of Bells!

Starting Bid: $ 5.00

Bids:

This sale will end in:

Higher Bidder


QualityGuy

Current Bid

$8.00





Lot # 152 - Solid Wood Dining Table w/ Extender and Spindle Back Chairs

Starting Bid: $ 5.00

Bids:

This sale will end in:

Higher Bidder


PickledPepper

Current Bid

$5.00





Lot # 153 - Solid Oak Armoire

Starting Bid: $ 5.00

Bids:

This sale will end in:

Higher Bidder


JD

Current Bid

$5.00





Lot # 154 - Bed Tech Twin Size Adjustable Base w/ Memory Foam Mattress

Starting Bid: $ 5.00

Bids:

This sale will end in:

Higher Bidder


--

Current Bid

No Bid





Lot # 155 - Vintage Miniature Porcelain Collectibles

Starting Bid: $ 5.00

Bids:

This sale will end in:

Higher Bidder


Haycin10

Current Bid

$5.00





Lot # 157 - Tall Standing Kenmore Freezer- New!

Starting Bid: $ 5.00

Bids:

This sale will end in:

Higher Bidder


Mrfunkyfresh

Current Bid

$76.00





Lot # 158 - ENTIRE SHED OF TOOLS- Happy Hunting!

Starting Bid: $ 5.00

Bids:

This sale will end in:

Higher Bidder


harley426

Current Bid

$52.00





Lot # 159 - Light Up Christmas Decor

Starting Bid: $ 5.00

Bids:

This sale will end in:

Higher Bidder


Frypan

Current Bid

$5.00